#1 Yard Waste Junk Removal Services in Palm Springs, Florida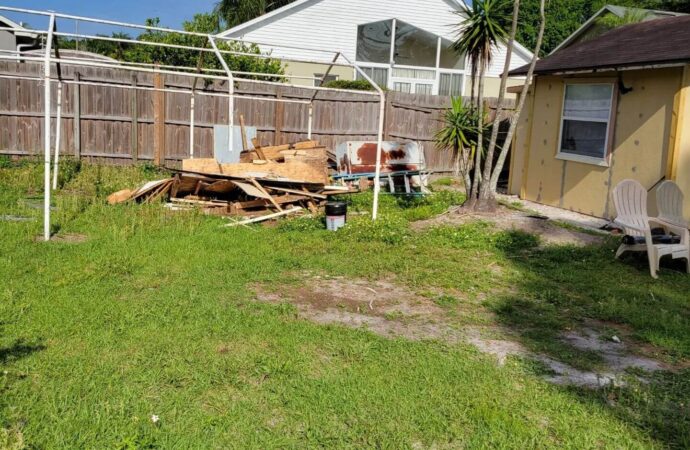 You will likely be distracted or forget about your yard after a long day, after getting your tasks done and working on your own. The list of spaces that you have to clean up in your property is endless as well, making it harder for you to focus on your space. To make your yard more valuable, you need to get rid of all junk and trash and just make sure there are no bad odors or any type of bad items and waste that can affect your property in the short and long run. For this, our team at Palm Springs Junk Removal and Trash Haulers can help with your yard waste junk removal. We will be there to help you through the whole process and ensure that everything gets to the right places.
We are available to assist you immediately if you request our assistance. Our team will allow you to focus on the things you need and just let us do the rest so that your yard is ready in no time while you focus on specific activities and go over your different needs and things to do.
You can host outdoor events such as barbecues and parties on your back porch after you have cleared out the yard or focus on having a stunning landscape for yourself that can be relaxing and unique in the area. Our team will help you with this. If your property can be used for more than storage, you can make the most of it, and we want you to see the beauty of it.
Yard waste can lead to yard problems quite easily. It can make your yard look messy and untidy, and we don't think you want to have this issue on your property. Also, it can make everything smell bad, leading to more problems in your place and causing serious damage to more areas.
It is crucial to choose the right company after you decide to outsource your yard trash removal or outdoor junk transportation. We can help you make sure everything goes smoothly so that you don't have to repeat the whole process.
We are happy to assist you, and all it takes to have our qualified and professional team is a call, email, or make sure to fill out our contact form.
Our Team Can Help You Remove Your Yard Waste
Yard waste can be very large, depending on the amount. We want to make sure you have the right support, so you don't end up with mountains and piles of garbage.
We can also collect junk from shed removal or demolition in case this is an issue in your yard. We can help you with any non-hazardous junk removal.
The demolition of a garden/storage structure will produce large quantities of bulky and heavy debris, including lumber, sheetrock, and plasterboard, as well as door frames and other discarded materials. This can also be handled by us.
Without a truck, it can be difficult to dispose of this waste material. It is also difficult to load everything.
We can take care of any yard's junk or waste, no matter how big or small. We can remove yard waste as well as haul away and dispose of other junk.
Get in touch with us today to arrange for your yard to be cleaned by our crew.
Here is a list of our services you can get at Palm Springs Junk Removal and Trash Haulers:
---
Palm Springs Junk Removal and Trash Haulers is the top company in Palm Springs that offers the best residential and commercial junk removal services. Here's our additional services:
---