#1 Carpet Junk Removal Services in Palm Springs, Florida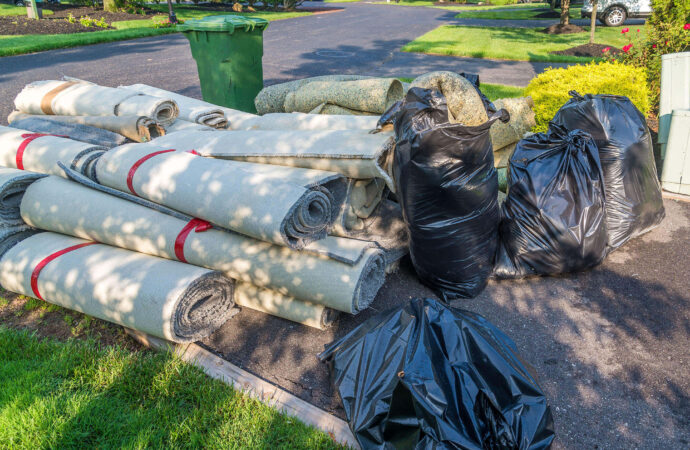 It may be difficult to find a local carpet junk removal company that will not only pick up your carpet but also assist you throughout the process in case you're struggling with the nails, paste, or all elements holding and fixing the carpet to your floors, making the removal more difficult than what you actually expected. This is because most companies that specialize in carpet removal focus only on the disposal of the carpet, so you'll need to look for separate support in most cases. If you're looking for a company that can cover all your needs and brings different services in removal for you, our team at Palm Springs Junk Removal and Trash Haulers can help you with all aspects of the process.
We will take out your carpets and dispose of them for you. Multiple carpets can be removed from your property with one truck or several, depending on all the support and needs you are requesting from our team. The best part is that they all go to the best centers and facilities for recycling or transition.
It is important to get rid of old carpets from hardwood floors. However, you should be cautious about how you do this. Your trash company may not accept carpets in poor condition or in large quantities. This is a municipal service in many cases, but several conditions tend to apply when you're working around this as well. They may not be able to collect all items due to the layout of their truck, or they may limit the number of carpets they can dispose of for you, and this doesn't solve your issue with all the removal aspects if you cannot handle it alone.
Our team makes it easy to recycle carpets since it can assist you in this task as well as the whole process of loading the truck and taking the carpets to charity centers or recycling over 82% of the item.
How to Remove Carpets Easily
In most cases, you will need to remove the small planks or wood tack strips since this is the most common and easiest way to install carpets, regardless of material.
These wood pieces can be reused when you lay a new carpet. You should remove them properly to avoid damaging your floors and if you are struggling with the process, let us know so we can be there for you.
The steps for DIY projects are generally a series of steps. We usually follow the same steps when helping clients with carpet junk removal. Is it possible to do them correctly? This can be more difficult than you realize, so don't feel ashamed of not being capable of handling the project on your own when going over each part:
Removing the nails and track pieces.

Having to use a hammer and additional tools for the removal.

Pulling the carpet so it can come off, but being careful enough not to damage your floors.

Rolling everything and making sure the disposal is done right.
It's easy to do everything for the removal when you allow our team to be there for you.
Our team will take care of all the steps of disposing of your carpet, including rolling it up and transporting it to the truck. Get a free estimate by contacting us today.
Here is a list of our services you can get at Palm Springs Junk Removal and Trash Haulers:
---
Palm Springs Junk Removal and Trash Haulers is the top company in Palm Springs that offers the best residential and commercial junk removal services. Here's our additional services:
---